At the end of this fab post on our visit with Mona, My friend Casey is hosting a Fresh Face Blog Hop! Be sure to link up, friends!
And now on to the Mona Lisa. Seriously, she's the size of a postage stamp. Ok not *really*. But honestly, it's really quite small. I was surprise. She seemed SO much bigger in The Da Vinci Code, which, in all honesty, I actually re-watched SEVERAL times before our visit to Paris, just so that I'd be that much more prepared for the Louvre. But Sophie and Robert got it SO wrong. The actual Mona Lisa is so much smaller than they make her out to be, although I did totally recognize exactly where I was in the Grand Gallery because of the Parquet floors. When I saw the sign that said Grand Gallery, I totally wanted to run to the first painting that I saw to look for hidden messages written on priceless works of art with the black light I had strategically placed in my purse, or to look for hidden keys behind the paintings. I could be Sophie and Steve could be Robert, right?!? But, sigh, Steve wouldn't let me. I swear, he ruins all the fun. And keeps me from getting arrested I suppose. Maybe when we retire to Paris is a few years, I get a job giving Da Vinci Code tours in the Louvre. I'm sure they'd LOVE that….
See! She's tiny! Impressive, but tiny. I texted my dad a this picture of us and he said he was surprised that the room with the Mona Lisa wasn't more crowded--so I sent him this one from the back of the room.
Tory and Jackson with the Mona Lisa. Jackson was less than thrilled since he wants to be an artist when he grows up and we told him we were taking him to see the most famous painting in the world. He couldn't figure out why "some painting of some lady" was so famous.



See that smiling and happy momma above standing in that field of sunflowers? That's ME! I'm so happy that you decided to stop by today and to visit my little blog about our family's adventures as a military family stationed in Italy. We've got some great stories to tell you about and some even more awesome places to share with you, so please join us in our adventure by following my blog. I love followers :) And you just never know when I'll decide to have a little give away for them. And while you're here,
please click on that little picture of that other tiny momma below
. Your click will count as a vote for me for Top Momma Blog! Thanks and see you real soon!
Welcome to the
FRESH FACE FRIDAY BLOG HOP!
Rules for hopping:
1| Follow your host & co-hosts (first 3 links), pretty please!
2| Link up your blog's homepage or Bloglovin' page.
3| Hop around, meet new bloggers, and leave them love!
4| Have fun? Spread the word and share this blog hop with your friends!
5| Want to be a co-host? Click here for more info!
Grab a button and share the blog hop love!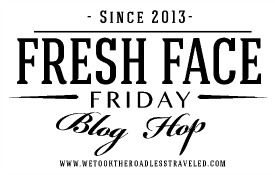 Tweet about this blog hop!
Tweet
An InLinkz Link-up
See that blue link up there? The one that says "An InLinkz Linkup"? You have to click it to join the blog hop (sorry...just wanted to make sure everyone saw it....I'm old....I need directions, too!!!)